Background
DMARC reporting provides a wealth of useful information to the domain owner about email activity – authorized or not – that uses their domain. Information about who is requesting or sending DMARC reports provides a unique perspective on the use of DMARC on across the Internet.
Domains With DMARC Policies
This graph shows how many unique Internet domains that had published a DMARC policy were sending messages each month according to our participating partners.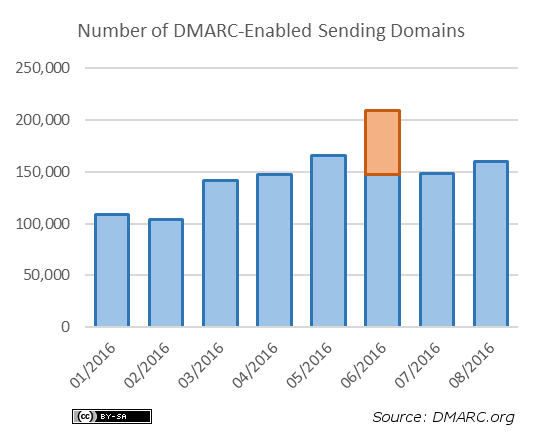 Growth is strong, 35% from January to June, and 47% to August. The orange segment in June represents over 61,000 domains that included "bulkmessage" in their name, and were inactive the following month. They are not included in the percentages given.
Top Reporting Domains
The more messages an organization or domain implementing DMARC receives each month, the more DMARC reports they generally transmit. Because this depends on the sending domain having published a DMARC policy, it isn't a direct representation of overall message volume. However it is still interesting to note which mail receivers are most active in sending DMARC reports.
Our thanks to dmarcian for their willingness to share this data.
Here we present the 30 organizations/domains that sent the most DMARC aggregate reports from the start of the year through mid-August 2016:
NetEase (163.com, 126.com, yeah.net)
Google *
Yahoo!
Microsoft
AOL
cisco Systems
DHL
Comcast *
Tencent (qq.com)
Mail.ru
FastMail Pty Ltd
proximus.be
LinkedIn *
BB&T Bank
XS4ALL.nl
Rolls Royce Motor Cars
TDC A/S
Novo Nordisk
US Bank
belgacom
Facebook
Virgin Media
Huntington Bank
infor.com
PayPal
OneOffice.jp
Mail.de
Allied Integrated Marketing
GameStop
SKANSKA
* Organizations providing financial support to DMARC.org